Qualified and professional support for you and your dog
LIMA "least intrusive, minimally aversive"
Non-violent and non-coercive methods
Based on scientific methods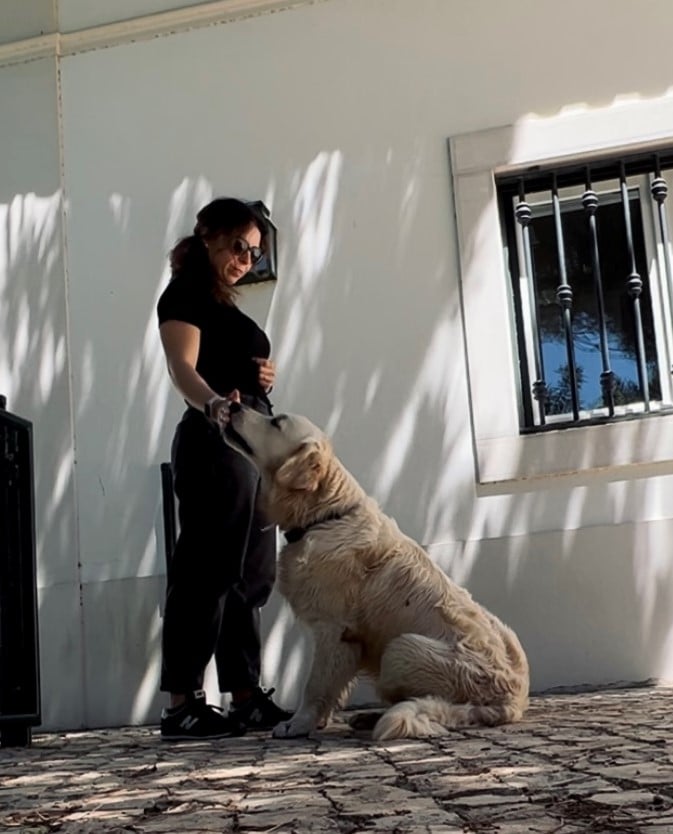 "I believe that communication, mutual respect and trust are crucial pillars in building and developing a healthy and friendly relationship between guardians and their dogs"
Ana Inês Antunes
CACE-EIC
Behaviour Consultant- IMDTB
Certified Behaviour Consultant & Professional Dog Trainer
---
My name is Ana Inês Antunes, I am Certified by the Ethology Institute in Applied Dog Ethology and Professional Dog Training, and Certified by the Institute of Modern Dog Trainers & Behaviour in Behaviour Consultation. Dog Factor was founded due to my dog Django, who became an inspiration to embrace this project that aims to improve communication and relationship between guardians and their four-legged friends. I worked for 12 years as a Veterinary Assistant, where I developed skills and knowledge both at the nursing level and in the "low-stress" handling of dogs and cats. I continued my studies by doing specialized courses in the area of animal behaviour and welfare, in addition to participating in several seminars, workshops, lectures, webinars, congresses and a lot of individual research. I believe that Ethology, Behaviourism and Neuroscience are sciences that, in addition to being constantly evolving, are important for those who deal with animals on a daily basis, being essential the professional updating and knowledge of them, not only in dogs but also in cats, horses and other animals.
My communication when I interact with animals is based on natural communication and mutual respect.
My approach and methodology in behavioural modification and animal training is based on scientific methods without any use of force and abusive tools that cause pain or suffering, always respecting animal welfare.

LIMA
On an ethical level I believe in the acronym "LIMA" which means "least intrusive, minimally aversive".
LIMA describes a professional who uses a less intrusive and minimally aversive methodology and strategy of a set of human and effective tactics, likely to achieve a behavioural goal.
Professionals who follow this acronym must have the appropriate qualification and training to ensure that the training or behavioural modification process used is the least invasive and aversive.
ACADEMIC AND PROFESSIONAL ACCREDITATION
Aggression in Dogs Master Course, (going on) Michael Shikashio
Certified in Working with Canine Behavior Analysis and Application - Behaviourist IMDTB, Institute of Modern Dog Trainers & Behaviour
Certified in Advanced Applied Ethology, (going on) Ethology Institute Cambridge, Animal Behavior and Learning
Certified in Applied Canine Ethology, Ethology Institute Cambridge, Animal Behavior and Learning
Certified Professional Dog Trainer, Ethology Institute Cambridge, Ani mal Behavior and Learning
Animal Behaviour and Welfare, The University of Edinburgh
The Sirius Dog Trainer Academy Course, Ian Dunbar PhD MRCVS BVetMe
Crucial Concepts in Dog Behaviour & Training Course, Ian Dunbar, PhD MRCVS BVetMe
Certified Advanced Canine Nutrition Specialist, DNM University
Certified Raw Dog Food Nutrition Specialist, DNM University
Veterinary Assistance Course, Monitor Institute, Business and vocational Courses, Lda
First Aid in Small Animal Couse, Monitor Institute, Business and vocational Courses, Lda
Continuing education
Canine Behaviour Case Studies, Institute of Modern Dog Trainers & Behaviour - David Brice, IMDTB
Breed & Predatory Motor Patterns, Institute of Modern Dog Trainers - David Brice, IMDTB
Michael Shikashio Dog-Human Aggression Cases Course, Michael Shikashio
Individual Mentoring Sessions of "Functional Assessment and Dog Behavior Modification Program, Social Teaching Program for Puppies and Adults and Coaching the Dog Owners (youth and adults)", Roberto Barata, Human-Animal Science
"Animal Behavior Modification, a New Human Science-Based View Anthrozoology" Seminar, Roberto Barata, Human-Animal Science
"Behavior Adjustment Training (BAT) for Dog Reactivity" Seminar, Grisha Stewart, MA, CPDT-KA
"Animal Training My Way" Workshop, Prof. Roger Abrantes, PhD
Lectures "The Understanding of Equine Welfare" and "Anthrozoology and Animal Training", Roberto Barata, CAAE-EIC e Tilde Detz-Jensen, GAT-EIC
Cat Handling Programme, Feliway® Ceva
I & II Workshop "Pet-Friendly Clinic", Dr Gonçalo da Graça Pereira e Drª Sara Fragoso
"No Stress Clinic" Seminar, Dr Gonçalo da Graça Pereira e Drª Sara Fragoso
VIII Nursing Congress of the Veterinary Hospital of Montenegro, Neurology Without Secrets - Behaviour Room
V Nursing Congress of the Veterinary Hospital of Montenegro, Geriatrics Without Secrets
---
Our Partners